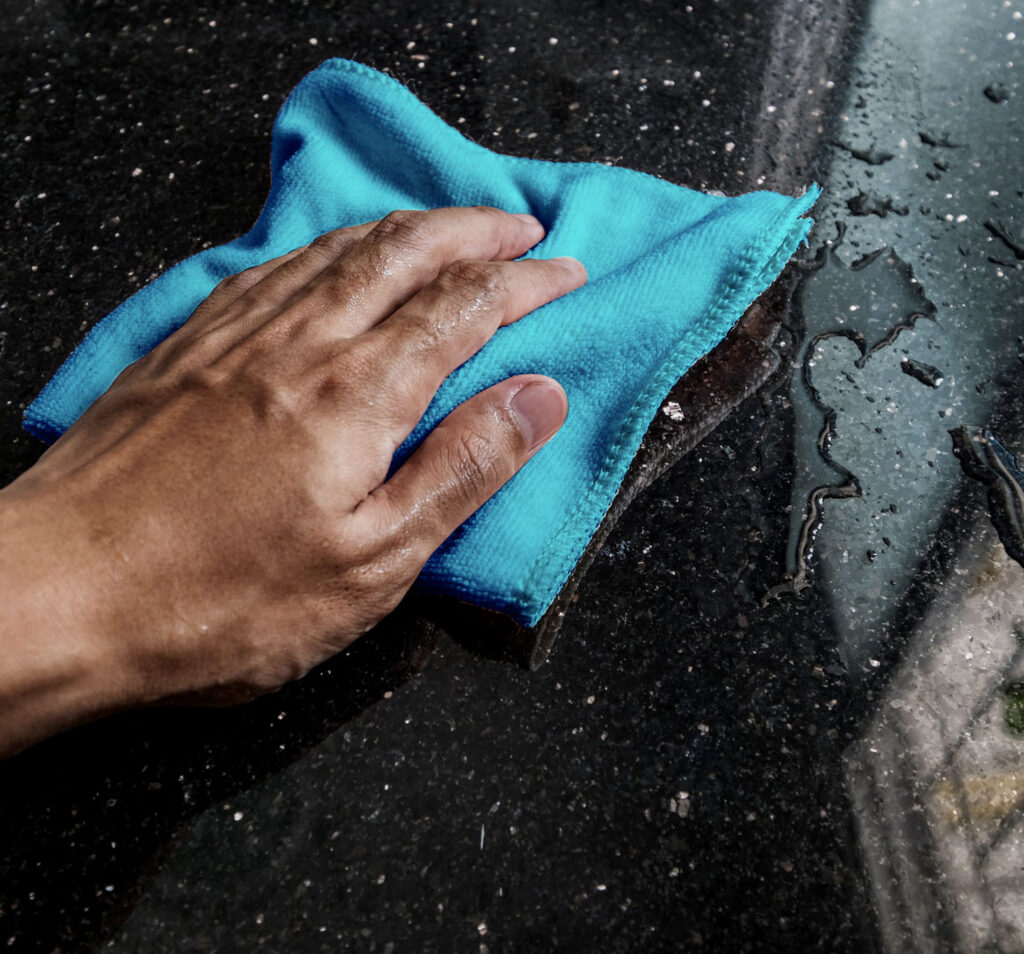 To keep the natural stone features throughout your home in pristine condition, you need to have their surfaces regularly sealed.
When you have your stone countertop sealed, you can prolong the quality of the material, as well as prevent staining & water damage, reduce etches & scratches, make it easier to clean, less chemical exposure, & preserve its natural beauty.
You can quickly determine whether your stone countertops need a new coat of sealant by observing if simple water drops leave a darker stain as it is absorbed into the stone.
* If you have engineered stone countertops, they do not require sealing.
How to Seal Natural Stone Countertops
In this video, we will explain how to properly seal your natural stone countertops. The specific sealer we like to use is Superior Stone Impregnator and we use this impregnator specifically because it absorbs deeper into the material to add extra protection from stains and scratches.
If you don't feel comfortable sealing your own countertops, KCCR is happy to do the job for you.
Materials needed to seal your stone countertops:
Take 2 separate rags.
With 1 of the rags, saturate it with the sealer.
After you have that rag saturated, you will then take it and wipe down the entirety of the stone countertops, profile and backsplash included.
Once you have the entire top saturated with your sealer, you're going to wait a prolonged period of time. Refer to the instructions on the bottle as to how long to leave on the specific sealant you are using.
After that period of time, you will then take the dry rag and go back through and buff off all of the surface sealer you still see on your stone countertops.
Once you have all of that sealant wiped up and there's no more residue, your countertops are sealed properly.
Countertop Sealing FAQ
Do all stone countertops need to be sealed?
No, engineered stone countertops do not need to be sealed. For example, Quartz countertops are a perfect example. Quartz countertops don't need sealing due to their lack of porosity therefore they won't stain and are not susceptible to etching.
How often should you seal natural stone countertops?
The best way to determine if your stone countertops need to be sealed again is to do this simple test. Choose an area on your countertop that is less visible and drop a tablespoon of water on it. If you notice any discoloration, such as darkening, you should schedule an appointment to get your countertops sealed ASAP. If you notice a slight discoloration at 30 minutes, you should think about getting them resealed within the next 3-6 months.
Kansas City Countertop Repair
KCCR offers quick and affordable stone countertop repair services to restore your countertops to their original beauty. Call today at 913-388-0318 or schedule online.